It seems like most of the fiction we see on TV or in books these days is coming to life! AR is one of the new technologies that's giving it that extra boost. Holograms are almost everywhere for people nowadays and have a big impact on the way we interact with them. Augmented reality is a great tool to help grow your business!
There's no slowing down of wearable tech and apps with augmented reality either. New breakthroughs in technology will continue to shape the future and you need to be on top of what's happening. Stay up-to-date with the latest web and AR trends by reading this article.
TOP-4 technologies in 2023
Let's discuss the primary technologies that will work with people's daily routines in 2023. These innovations would help people by enabling them to launch their business or improve an existing one. They will also provide their users with an edge in any industry including engineering, manufacturing, aerospace, telecommunication and many more.
Metaverse adoption                        
Augmented reality is a part of the metaverse and it became more famous recently after Facebook rebranded to 'Meta'. It isn't just about marketing though- this technology wants to eliminate any borders between reality and the digital world. Building a virtual internet-powered image of your establishment in augmented reality means you can watch potential customers remotely and see what they find attractive.
AR offers an immersive digital experience for you and your surroundings. All you have to do is download the Geenee AR or Player Me app and move the target around your area. Metaverse avatars will be modeled after people in real life. Geenee's WebAR builder can even add an avatar to your camera. It also considers personal objects, like jewelry and phone cases to be NFTs.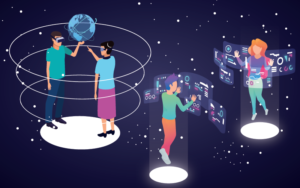 Even though this technology is old, people can now bring their people from other platforms into an application and make AR copies of them. This will soon enable virtual meetings and other events to be improved. For instance, a person might use a VR helmet to visit an appointment and the avatar will substitute for the actual person in the conference.
To reach an ever-widening audience, the need is greater availability of lower-cost, higher-functioning devices. This is the primary obstacle you'll come across when trying to enter the global market.
And developers will want to integrate all five human senses – like hearing- into AR, so you can really experience what's happening. VR and AR will become more exciting with 3D sounds. Users are able to specify their own way of listening and determine the exact location in a three-dimensional space.
Mixing different sounds together can really help you create a more realistic sound effect. A multisensory experience is one that involves sights and sounds to transport people into other worlds with a level of depth as though they were really there.
This year, we made it possible for users to transport digital objects into an environment of their choice. We think this will appeal to those who enjoy both reality games and the natural world. NFT collectors and other users can browse NFTs, sign them and exchange them
Augmented reality and artificial intelligence
There are two ways to integrate AI into your AR apps:
Software that can identify faces or objects in space is augmented by augmented reality.
AR and AI both have a lot of potential to provide innovative solutions.
AR functions better with AI. The technologies are different but are able to work together because AR requires it. Algorithms need to be processed by sensors and AI makes the working process simpler, more precise and effective.
Clip Drop is a good example. It helps people scan real-world objects and work with their 3D models in computer software. This scanning can help them import those things into metaverses. Major companies will put this innovation to work to make the product offering more straightforward and accessible with a trial version.
SketchAR is an example of a trend towards combining AR and AI. Users can use it to draw or get help from machine learning in drawing. Efforts have been made to adapt this technology for 3D modeling where the environment is in real life. If it becomes fully accepted by 2023, AI will start working on modeling structures that can be used in natural environments.
Cross-platform augmented reality
You might have some trouble with productivity if you're working with cross-platform augmented reality. There are also cases (especially related to niche applications) where this kind of AR happens to be a useful option.
90% of the tasks in your e-commerce store can be done on any platform – so make sure you're as productive as possible! The best route is to go cross-platform if your AR product preview module is simple. AR navigation and 3D scanning need a native app, however.
Augmented reality glasses
This product could go viral in 2023. Cambria is a new product by Meta. It's an expensive headset, but the circuitry is pretty amazing and should bring us into the future of mixed reality.
But other technologies may become the new trend in AR glasses. Mojo Vision Labs presented their smart contact lenses with augmented reality this summer. They work seamlessly in your interface, provide general functions, and contain special software for tracking the user's sight and communication.
The lenses have the following components:
Accelerometer;
Gyroscope;
Augmented Reality images can be slightly distracting and the phone might need to be stabilized. The camera will keep an eye on you and make sure the image stays in one place while you're moving in order to avoid any discomfort.
TOP 12 web technologies in 2023
The web design & development industry has a lot of hot topics on the market for you to consider. You'll have to think about what your preferences are and if the trends will stay around for a few years. In 2023, it's likely that your internet browser will need to support any of the following web technologies in order to keep working as intended.
Progressive web-applications
Progressive web apps are the trend in web development for 2023. Apps like these will be a website + mobile app hybrid with all the functionality needed to keep your life going, regardless of which device you access them with.
PWA offers a lot of advantages. Some are:
We take cutting-edge technology and cut expenses.
We make our entry quick and straightforward.
Our distribution saves device memory.
Notice our high working speed, autonomous mode, and better engagement with enhanced conversion throughput which allows a faster service and updates process as well.
PWA Use samples and result
Take a look at what's coming down the pipe! There are several reasons why PWA is worth considering in 2023. Ericsson predicts that global mobile traffic will grow by 4.5-fold by 2026 since people are using more mobile devices for their needs. Plus, 5G will cover 54% of all data exchange by 2026; so you'll be able to access mobile services just that much quicker.
Ericsson is sure that 90% of operators will offer FWA after the 5G launch
PWA will help companies remain competitive in the modern world while the applications become advanced.
PlanMyKids is a platform for planning children's events. Its launch and development are cost-efficient
UX/UI design is a crucial part of PWA that improves the user experience. The innovative web application must be intuitive, beautiful, and similar to native ones in visuals.
Augmented reality (WebAR)
Augmented reality is finally becoming a trend in 2022, making it the new normal. We see AR referenced in smartphones, in education, and in healthcare & video games now. This technology will be worth more than $300 billion by 2024. It will provide a better experience for clients and offer greater engagement. One company that has utilized AR is:
WebAR lets you see current deals on the website and make purchases directly from the browser. It can bring a few advantages for eCommerce, such as:
Your business processes are better streamlined by using the product before purchasing it. The user experience is improved and customers are happy as it reduces their decision-making time on the internet.
With a virtual hall, clients can interact with furniture in a 3D way at Amazon AR. This makes it easier to choose the style and think about how your new furniture will look in your home.
Shopify put out a 3D product modeling solution that lets clients explore their prospective purchase in 3D before they buy it. AR/VR bridges the gap between the digital and physical worlds by making products come to life right in front of you! In 2023, if this technology is ubiquitous
Artificial intelligence (AI) and bots
Bots and AI assistants are shaping up to be a major player in web development in the future. They can learn on their own, collect data, conduct analytics, and solve complicated tasks too. Businesses should take notice of this and try to accommodate them.
The chatbots such as Alexa, Siri, Cortana are the latest trends in Virtual Assistants. They offer better communication and give your services more personality. If you use a trading bot, this can have a positive impact on client service.Usually, this AI writing assistant will help in chats with your clients and interact with them.
Voice search 
Audio has become popular for a lot of people in recent years, so companies are catching on and using voice assistants or speech recognition as one of the most rapidly developing web development technologies.
It's forecasted that voice assistant devices will grow in size and prevalence. For instance, 53% of people who search, and buy things on their phones & more all use voice assistants like Amazon's Alexa to do their work.
It's important that websites offer voice optimization as well. Major companies see this as an opportunity for the future, so they're adding voice search to digital products. Besides being a major convenience, there are other advantages too when we use our voices to run online searches.
We can help you order more in a shorter period of time.
One of the things you can use to get a better sense of your clients is client logs.
Optimizing voice search resources will help you stay ahead of the 2023 trend. For example:
Make sure you answer all the questions.
Apply the markup and use extended snippets for indexing. It improves search engine indexing
Tidy up the site, delete any duplicates and update the data
Manage your website's DA and other classical ratings.
You can make voice recognition more accessible by using the Web Speech API. Voice search won't be missing in 2023. The Internet is moving towards Web 3.0 and it will help to promote this transition.
Machine Learning can help your business give them the content they are looking for. You'll really be giving them what they want.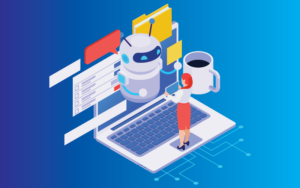 AI and machine learning affect the experience people have on the web. Without realizing it, they may have glimpsed a deep-learning algorithm at work – its main goal is to make our browsing smoother, whether it be while using Google, browsing Facebook, or playing Candy Crush. These software and technologies streamline processes without developers' involvement. Data personalizing and patterns are defined automatically, they allow you to get on with what matters in your business.
One of the ways that Airbnb ensures good quality is by using machine learning to optimize search results for new users. Their algorithm ranks and scores solutions, such as whether or not your request would be accepted by the host, and increases your chance of acceptance. The best AI programs are based on data that is collected. A/B testing showed a 4% increase in conversion rates by Airbnb, which is now leveraging this with this new approach. It's adding to customer happiness and higher profits for the company as a whole
Netflix has moved on to new methods of developing things. They've implemented sophisticated algorithms that allow machine learning. Every Netflix user receives individual, personalized options on their screens. This is vastly different from what they used to practice in the past. The software instead look at what you want and provides content & results related specifically to that.
There's a lot of stuff to look forward to in 2023. Ramp up your natural language and image recognition efforts to better connect with your customers or machine learning and cognition that help you process information and make smarter decisions for your company. Machine learning can be used in a lot of different areas of applications. Among the cool things it can do is:
Health care;
Finances;
Education;
Farming industry.
Machine learning is critical for web services nowadays. You'll have to think about how it will best serve your company in the long run. This is why they need to set the content and make a deep user behavior analysis. The users will know that this relies on algorithms, but they won't mind, so it'll be more engaging and conversion rates will be higher.
Data security 
More and more net-based applications attract cyber-criminals. Any web app that handles a lot of data is a target for malicious actors because they want to steal info from companies and clients or just mess up the app so people don't use it. This can lead to losses, blacklisted apps, damaged reputations, and more.
Data security is important for every company and there's plenty of advice on how to protect your clients' data:
Do not refuse to test the security of a web resource. It can be performed during the development of the project. It allows you to exclude data leaks, and it is crucial to test any changes in the application.
Use monitoring software to watch for suspicious activity. As soon as you notice something, an algorithm can identify it and alert you in time to catch the bad actor. Do this as quickly as possible and make sure your program is protected.
You should really think about the choice of a third-party service provider. Software as a service has grown in popularity because it is easier and faster to create applications. As developers, you need to make sure that the services can be trusted and provided by service providers.
Encrypting sensitive information. If a hacker gets access to your database, encryption will stop him from being able to misuse the data.
Two essential elements can provide security for information and web applications. These include 2022 trends that remain relevant into 2023.
Artificial intelligence for cybersecurity
Improvements in AI often bring up a balance of pros and cons. The pro list includes improvements to AI device storage; by 2023, AI devices will be more secure with regard to data protection. These are some of the changes happening now:
To enter the system via AI you need biometric data such as fingerprints or retinas. Major corporations are introducing this technology to their systems.
There are many large companies that use AI for cybersecurity. One of the main benefits is that it saves a ton of time and effort for them.
Security software is a key component of any AI tool and if used correctly, can reduce the risk of threats and attacks. Malicious software also continues to develop, causing more damage and danger. When that happens, companies need to teach their algorithms what abnormal behaviour looks like so they provide instant reactions when needed.
AI is a helper that can answer specific questions, and the machine is start learning on its own. It helps you make informed decisions and keeps your web tech safe
Blockchain for cybersecurity
Blockchain has been a popular topic of late, especially in the Bitcoin and tech blogs. It's advisable to apply this for secure web-based projects in the future, with NASA using it to protect important data.
The blockchain provides two-factor authentication via a decentralized network that ensures the information is completely trustworthy and clear. Besides that, it offers many other advantages.
Reducing the perimeters for business.
It is good to have more money flowing in and also allows you to keep track of everything easily.
Trade security and information protection.
Blockchain is a decentralized database system where information is stored in consecutive "blocks". This means that while there is no single controlling entity or central location, data on the Blockchain can't easily be taken. You can't change the info without approval from your coworkers.
Distributed Denial of service attacks are really common and affect a lot of large corporations; however, this is where decentralization comes into play. It means that if the information is stored across multiple nodes, hackers can't find the 'low hanging fruit'.
Accelerated mobile pages (AMP)
Google is always looking for new ways to make its products better for tablets and smartphones. They recommend that developers consider the AMP protocol if they want to get the page to load quickly.
AMP is a perfect solution if:
Numerous users work with web resources via mobiles.
The clients leave the application because of low speed.
SEO and promotion are essential for business.
Pages go live a lot faster thanks to Accelerated Mobile Pages. You'll notice that they only show the essential content and data (text, images etc.), so they're perfect for news services and blogs.
Micro interfaces
In the future, software developers will likely prefer microservice architecture over monolithic architecture. The monolithic backend becomes obsolete while the new style provides flexibility and scalability – this lays out a lot of design considerations. Developers often have to deal with monolithic code bases which make it hard to maintain & also have a negative effect on the product's quality. This can lead to various other problems like time loss, decreased revenue, fewer features and more bugs.
It's very possible to break up your front end into simpler, more manageable elements in order to set them up for independent testing or deployments. Micro-interfaces are to help creators work on different parts of the unified web app.
You might want to rewrite aspects of your software or update small bits of code. You can do this with little to no impact on how the program will function once it's done and everything can happen faster than before.
WebAssembly
In 2022, WebAssembly (Wasm) is another hot topic. Developers can make productive apps with it and it can work in a browser. It's good for 3D apps and even crypto stuff!
Installing a complex web app on a system with JavaScript isn't the best idea. Usually, JS systems can only support apps with less complicated logic – like WordPress. There are some issues you may want to be careful with. For instance, when a new function is activated on the website, it'll take more time for the site to appear. If there's a lot of updating going on at once, it's better to delay that or do it in smaller increments so as not to hurt your content promotion. You can just keep coming in. Both these tools should be used together if you want to get maximum benefit.
WebAssembly is a new technology, the current version (75) was launched in October 2018. WebAssembly code can be written in any programming language and compiled into WebAssembly architecture. Once the code reaches the browser level, it will automatically generate machine binary code which will eventually run on native hardware.
React
In 2023, React will be a popular web development technology. More than 9 million websites are using it today and its popularity is on the rise! The following reasons explain why more and more developers are using it:
When you're interested in more than one type of instrument, we have something for everyone. Some instruments are more versatile and easier to test so they function well with high-performance devices.
React made it really easy to work with JS code, so there was no need to change how our app looked. This is possible because React uses a modular approach and the code written is much easier to maintain, as well as reducing the probability of bugs. Because of its modular design, developers can edit each separate component without having to worry about how it affects other parts of the system. UI/UX designers are able to invent interfaces that do a lot of different things in a short amount of time. They also create multifunctional systems, which makes it easier for teams to get their work done.
Motion Interface
Design is an essential element of the brand- that's why it's now a trend when it comes to web products. It's important for about 50% of consumers that what they use looks good and matches the rest of their online experience. If you want people to use your website, it needs to be easy and intuitive. Buttons are great for that! Motion UI is a design tool that makes designing these interfaces easy.
According to a recent Chartbeat study, it takes 15 seconds for a person to decide whether or not they'll like your website. It's important to keep potential customers interested with Motion UI.
Internet of things (IoT)
The Internet has changed the way we do many things– like education, work, and health care. But it has also changed how we interact with one another, especially with social media. 94% of people use the internet on a daily basis, which is why many businesses have figured out how to use it effectively. The Internet of Things is the ability to link a bunch of appliances and home + wearable devices to the internet, usually with a phone. In part, it came about because of the proliferation of smart phones.
As the Internet of Things is a very popular trend for the year 2023, it's a good idea to start figuring out how this will affect your web design endeavors. With all devices connected to IoT, there's always a constant transfer of info and this can in turn allow you to offer personalized services instantly.
Take Google Nest speakers as an example- people use `intelligent` gadgets like multimedia speakers, alarms or lights. You can give all commands via voice and IoT is one of the fastest-growing web development technologies out there right now.