Flapper is the first on-demand private aviation platform of its kind. The company offers shared flights and charter flight in Latin America, combining more than 450 aircraft into one robust inventory. Flapper makes part of a new generation of air taxi companies and envisionsa new market where aerial mobility effectively becomes a mainstream travel option.
Flapper App at a Glance – Key Features
First private aviation appin Brazil and Latin America. It draws altogether 450 plus aircraft to deliver a revolutionary private flight experience.
On-demand charter, with real-time price estimates and confirmation coming to your email within 10 minutes.
Browse seamlessly between available scheduled flights and empty legs.
Real-time notifications of last-minute specials, with prices as low as 50-60% below the regular hourly rates.
Panoramic flights, with predefined itineraries.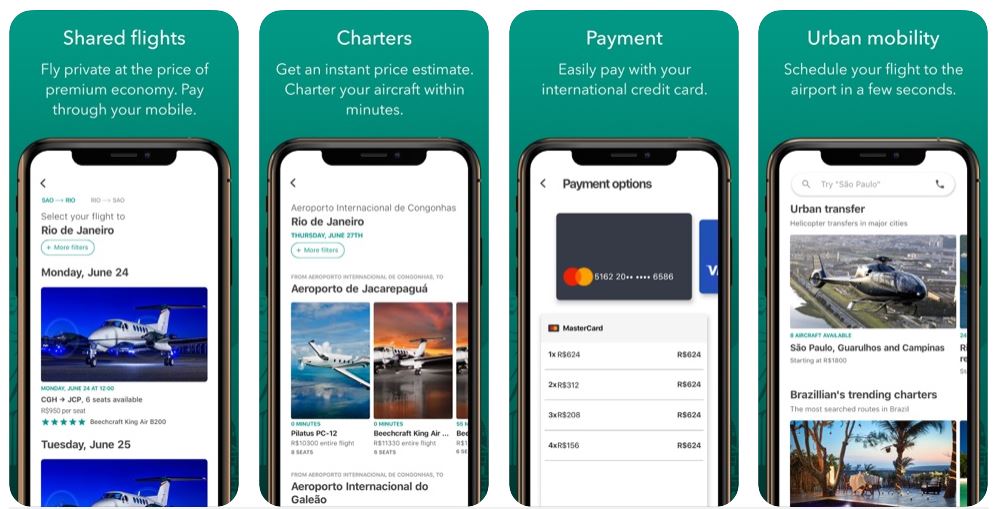 Special Characteristics of the Flapper App
Weekend getaways and popular business destinations handpicked to you.
Fly private at the price of premium economy and Pay through your mobile.
Charter your aircraft within minutes and easily pay with your international credit card.
Schedule your helicopter airport transfer in a few seconds.
Full transparency with special tags to identify Part 135-certified operators. The company runs its own safety-vetting procedures.
There is no need to check in before the flight. The team will automatically forward your data to the charter operator to request mandatory insurance and register with the national aviation authorities.
Some of the prices we saw through Flapper app:
Weekly flight São Paulo (Campo de Marte) – Angra dos Reis: around R$1000 (USD 200)
Empty leg São Paulo – Rio de Janeiro: R$950 (less than 200 dollars)
Helicopter transfer São Paulo – Guarulhos: R$4500 (roughly 900 dollars)
Final verdict
Flapper app is a delight to all the travellers out there as it offers almost everything private aviation-related at just one click.Both first-time flyers, as well as experienced air taxi users will appreciate the platforms' sophisticated interface and a multitude of features.
Website : https://www.flyflapper.com/
DOWNLOAD NOW :