Generally when we get sick, we need a lot of medicine. Moreover the Doctors write us huge prescriptions. What if the list is very huge? How to save money? We know the answer. You can download prescription coupons and pharmacy apps with discounts. You will be able to purchase the entire list of medicine. In addition the Apps show the cheapest prices and the best pharmacies.
The modern apps are the best way to save money. One should not be afraid of large lists of drugs. These apps will assist you find great discounts. When we get ailment, we can't go out. Home delivery will help us recover faster. You can pre-order medications to come out of the disease in the early stages. We selected LowerMyRx: Prescription Coupons as best app where it satisfies above causes in qualitative manner and helps to save lot of money.
It is illustrated that LowerMyRx provides medication discounts on both brand name and generic prescription drugs at over 35,000 pharmacies nationwide. The users have saved up to 80% on prescription drug purchases at their current pharmacies with Lower My Rx free the pharmacy coupons. You can use the LowerMyRx prescription coupons app every time you go to the pharmacy and save.
More importantly LowerMyRx will find the lowest estimated discounted price for your prescription medication at pharmacies near you.
How it Works
Simply enter your prescription medication name.
Compare the lowest estimated discounted prices for your prescription medication.
Show your Free LowerMyRx in-app prescription savings coupon to the pharmacist and save.
Amazingly this LowerMyRx assists patients search and compare discounted medication prices at pharmacies near them. You can simply enter the drug name and select the best discount price displayed. Then just show the pharmacy the free LowerMyRx coupon card at checkout and save. That's all there is to it. LowerMyRx is always free to use.
Primarily LowerMyRx app user checks-out at their participating pharmacy, the pharmacist will use the special codes on the in-app coupon to offer the patient with a good prescription discount on their medication. Lower My Rx Prescription discount coupons are accepted at the following participating pharmacies:
Walmart
Walgreens
CVS
Kroger
Albertsons
Rite Aid
Longs Drugs
Fry's
Harris Teeter
Wegmans
Sav-On Pharmacy
Meijer
H-E-B
Since 2013, the LowerMyRx Prescription Discount Program has saved users millions on their prescription medications. Actually LowerMyRx is not insurance and is not a substitute for insurance. The discounts displayed are estimated and discounts may vary. It is notified that the discounts are only available at participating pharmacies.
Final Say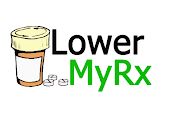 LowerMyRx: Prescription Coupons is a quality release and one of the best apps launched for benefit of global users. It is a superlative app that will appeal to anyone who is looking for perfect prescription coupons and medication discounts.
DOWNLOAD FROM THE STORES: