Today's market is crowded with many user-friendly expense management solutions that perform various critical functions. Examples of these include invoice management, expense tracking, receipt management, spend and approval process control, and workflow management.
An organization requires robust expense management software to ensure reduced expenditure, accurately created expense reports, and timely payment of dues.
What exactly is Expense Management Software?
This software automates and simplifies a company's expense management system. It reduces administrative burden, tracks expenses, and streamlines the approval process for quality management of organization spending.
List of Best Expense Management Software
Paramount WorkPlace – Expense Management Software

With its sleek UI and seamless ERP integrations, Paramount WorkPlace is one of the best expense management solutions. Its powerful OCR technology allows users to easily create expense reports by capturing accurate information from scanned receipts.
For a better user experience, Paramount Workplace supports real-time integration with ERP applications such as Microsoft Dynamics, Acumatica, Blackbaud, Sage-ERP, Sage Intacct, and Netsuite, among many others.
Important Features                                    
Approvals and Entry via Mobile
Receipt capture with sophisticated OCR
ERP Integrations in Real Time.
Real-time integration with OFX-supporting banks
Make travel plans and a workflow for easy request approval.
Support for multiple currencies and languages
Final Words
Paramount offers a simple way to generate instant expense reports from captured receipts and credit card transactions. It requires no special skills and can be quickly implemented to manage, monitor, and gain insight into your company's day-to-day expenses.
Airbase

Airbase provides cloud-based expense management software, which is ideal for gaining complete visibility into your workforce's spending. The software was created to assist businesses in managing their expenses. It achieves this goal through tools such as real-time reporting, corporate virtual cards, and bill payment automation.
Key Features
Corporate and virtual cards
Workflow approval processes should be automated.
An aspect of Real-time reporting
Integrates with third-party platforms such as Xero, NetSuite, and others.
Final Words
Airbase is an excellent expense management software on which any company can depend to streamline their expense-related activities to control spending and safeguard them from scams.
DivvyPay – Expense Management Software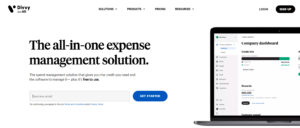 Divvy provides a platform for tracking expenses across multiple systems in a centralized dashboard. The platform provides you with tools that allow you to track, manage, and control your business spending easily. Divvy allows for instant reconciliation. As a result, you are notified immediately when employees spend.
Features
The app can track your expenses in real-time, so you know exactly how much you spend. It can also automatically categorize transactions, so you don't have to keep track. Finally, you can quickly reimburse employees and review your expenses in one place.
Final Thoughts
Divvy is an expense management platform that wants to keep track of its employees' spending 24/7. Divvy also integrates seamlessly with most third-party accounting applications, making it software that represents convenience when it comes to tracking and managing expenses.
Zoho Expense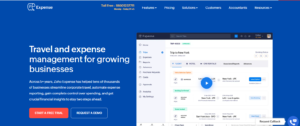 Zoho Expense provides an unparalleled expense management experience thanks to one of the most intuitive dashboards on this list. Zoho is widely regarded as an excellent management tool, providing solutions that simplify various aspects of a company's operations.
It is the best small business expense management software. You can use this app to keep track of your money, manage your receipts, and authorize reimbursements.
Final Words
Zoho's simple user interface and low cost make it an excellent choice for small businesses with limited resources. It flawlessly executes all of its functions to provide a satisfying expense management experience to its numerous clients.
Emburse Spend – Expense Management Software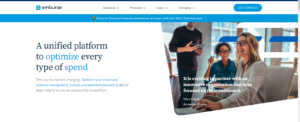 You get an innovative, comprehensive centralized platform with Emburse Spend that enables you to manage your employees' spending easily. The platform gives you complete real-time visibility into your team's expenses. You have the authority to review and approve expenditure requests.
The app will help you see how much money you've spent each day and automatically reconcile your receipts so you can keep track of your spending. You can also create virtual cards that limit how much money you can spend at each location. And finally, you can control your spending by location, so you know how much money you spend in each area.
Final Words
Emburse Spend is the apparent substitute for outdated ad-hoc payment methods and technologies. This is among the perfect corporate card and spending management solutions for controlling and monitoring your team's spending.