On-demand economy is growing at a CAGR of 18.5% since 2015. Its size will increase from $57.5 billion in 2015 to $335 billion in 2025. On-demand economy is made up of activities that collect user requirements online and fulfill them offline. It is an ideal use case for leveraging technology to meet customer requirements.
The belief of people in this relatively new phenomenon of On-demand businesses can be gauged from the fact that 7.6 million people are expected to be working in this economy by 2020 in the US alone.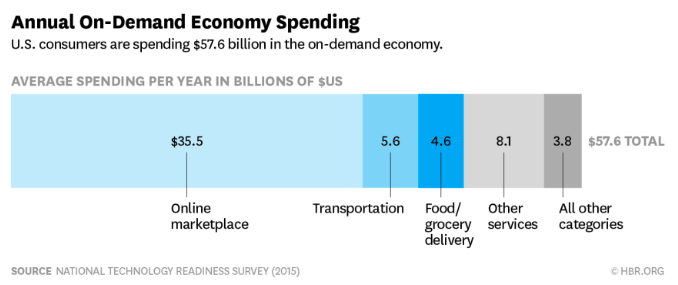 On-demand is in high demand not just in the developed economy but also in developing ones. The ease with which customers' needs can be fulfilled on mobile devices has prompted many start-ups to come up with innovative ideas for providing on-demand services.
Start-ups to established industry players are coming up with new innovative ideas using mobile apps to serve the unfulfilled need in industries as varied as education, healthcare, finance, transportation, travel, and tourism, etc. What must be noted is that it is not only these major Industries that are driving the on-demand economy but other services like home services, health and fitness, beauty, and freelance services.