I have experienced many varieties of apps in all kinds; so when the familiar genres are launched I can't assist but have the eager to check it out for myself, which is what actually happened with Contractor+: Estimate, Invoice, Project Management app.
It is All-in-one handyman contractor app for creating estimates and sending invoices, project management, job scheduling and much more aspects. Contractor+ is for handyman companies, over 50 categories of contractors and property management companies. Whether you do home remodelling, general handyman work, or professionally manage properties for real estate investors, Contractor+ app makes your life easier and your handyman business more profitable.
What Makes Contractor+: Estimate, Invoice, Project Management app So Special
You can Start Each Job with an Itemized Estimate
This app provides branded construction estimates and invoices that are itemized with photos for each line item/task. Take project management a step further and add supply pricing from Home Depot, Lowe's, Menards, Ace Hardware and more. A construction estimate generated with Contractor+ will impress your clients and win you more jobs. There is perfect estimator tool to make accurate construction estimates.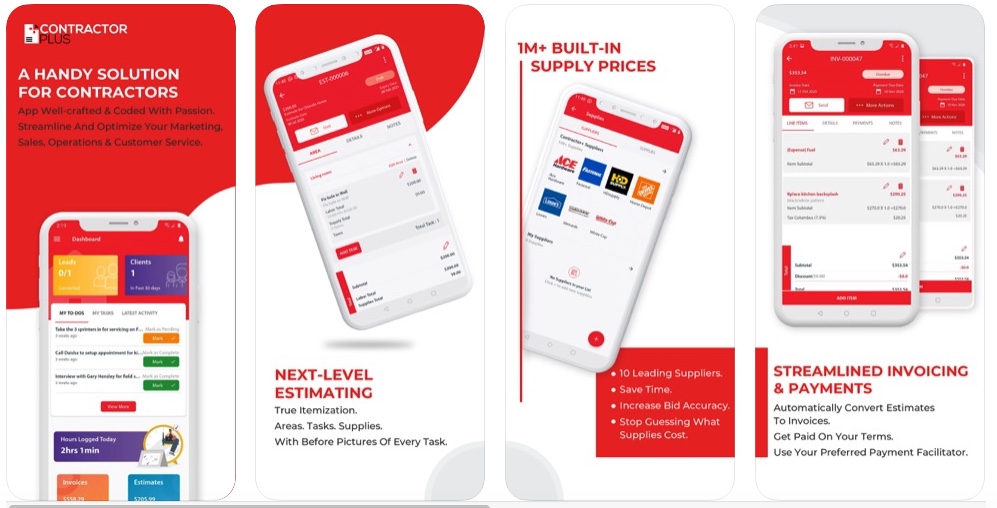 Best to Send Invoices and Receive Payments
Use the invoice maker to create invoices, having your invoices sent automatically or manually. Generate an invoice at any time before, during, or after a job with an easy invoice maker. You can even link your account to PayPal, Stripe, Square, Authorize.Net, YourPay, WePay, CoinPayments and CoinBase for instant payment processing. In addition you can accept cash,
checks, credit cards, and even Bitcoin payments with this app for contractors.
You can Win More Home Remodelling Bids with Homeowner Financing
Contractor+ has partnered with Lightstream by SunTrust Bank to offer your clients financing options for home remodelling projects. Homeowners can get the home remodelling work done now and pay for it later.
You can Schedule & Manage Construction Projects
Contractor+ makes complicated project management super-easy. You can view jobs scheduled for any date range & assign team members to each job site. Every job on the schedule has a chat to communicate and keep your team on
the same page at all times.
Get All Your Supplies in One Trip
Contractor+ has supply pricing from the leading construction suppliers including Lowe's, Home Depot, Menards, Ace Hardware, Sherwin-Williams, Lumber Liquidators, HD Supply, White Cap, Fastenal and Grainger. You can generate a shopping list for any estimate in seconds, taking the stress out of project management.
The Time Clock & Mileage Log Makes Payroll a Breeze
Primarily once you've assigned team members to a job or field service on the job schedule, they'll be able to clock in and clock out using the GPS validated employee time clock. They'll also be able to track their mileage using the mileage log. This is not your ordinary time clock or mileage log, the Contractor+ time clock and mileage log was built specifically with handyman
contractors in mind.
Good to Showcase Your Projects to Field Service Clients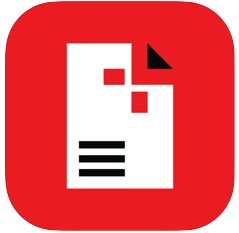 Contractor+ permits you to quickly and easily send post-inspection reports to each client. You can take after photos for every task and send a branded report with all the details that matter most. Then, automatically invite your clients to leave a review that is leveraged to help you grow your business.
Keep Track Of Your Valuable Tools
Contractor+ has a powerful tool library. You can add an inexpensive Bluetooth Tool Tag about $10 per tag to any tool, toolbox, or tool bag. Then, you can assign any tool to any team member and/or job site.
Sync All Accounting Data with QuickBooks
Everything from employee timesheets, mileage reimbursement, estimates, invoices, payments, and even supply costs are automatically synced with your QuickBooks Online account.
True Collaboration Keeps Your Team on the Same Page at all Times
You can add each of your team members and configure their level of access to optimize your business operations and maximize productivity.
Absolute FREE Leads for Life
When you claim or add your listing on the Contractor+ directory, you'll start getting leads from clients in your area.
Final Thoughts
I'm a fan of Contractor+: Estimate, Invoice, Project Management app with several exclusive features. It is a pretty solid successful release and developers did splendid job with key aspects.
DOWNLOAD FROM THE APP STORES: