It's time not to worry about any situation may be a pandemic or lockdown days. There is no need to stand in a long queue in the banks to receive a cheque book , Writing, signing and filling in the other details is a real headache. And finally, waiting for the recipient's message to know if it is received safely or not. Gone are those old days. Technology has made lives simpler and easier just with the device placed in our palms. Yes, our mobile phone can do much more for us using the EMailACheck application. This is a constructive release in the Play Store. What a useful application it is. Being an entrepreneur I do most of my transactions with checkbooks only so I demand in the banks quite often that's why I wanted to know if there is an application that could ease my work and relieve me from the tiresome process. That's when I found this and started using it as well.
About EMailAcheck and highlights
EMailACheck is a mobile App that allows you to write checks, and email or texts them to someone whom you are intended to pay, instantly at practically no cost.
Can know the history of the cheque the payment date or received date.
Avoid late payments.
Can receive  24/7 instant payments.
Needless to run to the bank for depositing cheques.
Save natural resources by not wasting paper.
Working of EMailACheck – Just 5-10 minutes process
Just downloadthe EMailACheck mobile app.
Set up the user account(Account Name, Number and Bank information)
Then a verification message will be received as a text message and emails
After this first verification step, you will need to set up your electronic checkbook.
For enhanced security get your check from your bank you need to verify 2 remote deposits that only an owner of an account has access to, the bank information is verified by the bank and the user.
Why did I choose EMailAcheck?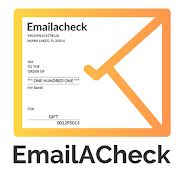 Since I am using a mobile phone for transactions I always analyze the security features in it and honestly tell you the application is completely encrypted. Listed below are the ways the account is safe with the EMailAcheck application. 
The mobile app does not handle any transactions and does not keep any personal information.
No signature is stored.
The EMailACheck is like having a checkbook on your phone or computer.
All transactions are handled by our bank.
The encrypted check is then sent via email or text to the person you wish to pay.
EMailACheck has numerous levels of security, The passcodes allow the user to write, approve, sign and issue checks.
Only the authorized user can operate the system and then it still requires the owner of the account to sign it.
The bank is supposed to only pay an authorized check that has been signed by the owner.
After you write a check, you email the check and the recipient can verify it by looking directly at the check to confirm all the information matches the background or they can also use a bar-code app to verify the information.
The recipient then can either print and deposit the check using regular means, with a scanner, by remote deposit, by a mobile banking app, or by emailing the check to the bank.
Every check requires a signature unlike many other payment apps , The bank verifies the payment amounts, signature and account number before cashing a check, if they cash a check that is not signed it's the banks responsibility.
Every check that is sent is personalized so you don't send it to the wrong person with some of the other payment apps.
Writing Cheque is simple as this
Mobile passcode and mobile passcode are used to write a cheque. And the cheque can be written only by the signor on the bank account and the signature can be applied each time for security reasons.
The mobile app creates a unique rsonalized check each time with a barcode and repeating information in the background to prevent counterfeiting, manipulation, or forgery.
Special highlights
Save on Postage – our payments are emailed so you save postage, save at least 60 cents.
Save on handling costs – no stuffing envelopes, licking stamps to mail a check
Save on envelopes – no need for envelopes that cost usually at least 10 cents each
Save on pre-printed checks and ink – save on stock paper and ink that usually costs about 10 cents each.
Verdict
EMailACheck will be my all-time favorite application for depositing and receiving cheques. I am sure this application will be useful for any common man who is much worried about the safety of their accounts during transactions. My sincere gratitude to the developers for this awesome release and I wish them to develop many more applications like this to serve the best.
Download :