It is known fact that everyday our lives are governed by habit. These habits are the little routines and small ways of doing things. Most people are unaware or are only slightly aware that they're doing them. Luckily there are many apps available especially designed to help you to set goals and keep track of your habits. For benefit of users this Habit Challenge app developed by Dariusz Luksza is qualitatively recommended to all.
Habit Challenge is a simple, beautiful and free app that will professionally assist you form new productive habits and keep you on track. With Habit Challenge you can define any type of habit you want to integrate into your daily routine.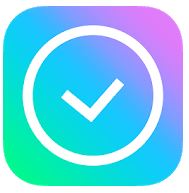 Moreover for each habit you can select daily occurrence and days of the week when you want to perform it (e.g. exercise once a day on Mondays, Wednesdays and Saturdays; run twice a day on Tuesdays and Thursdays). You can also define multiple notifications for each habit. With Habit Challenge you can also review habit history by scrolling the date's header to see how you performed.
Key Features of Habit Challenge
Simple Yes/No or number goals (run once a day or drink seven glasses of water daily)
Choose days of the week for given habit, from one to seven times per week
Flexible goals – you can create any goal you like. Just give it a name and you're done
Flexible reminders – set any number of reminders for any time you like
Streak detection – detect long periods of time when you are consistent with the habit
Perform actions directly from the reminder – mark habit as done or snooze it directly from the notification
Home screen widget – mark habits as done directly from the home screen
Monthly view – see your progress on a monthly basis
No internet needed – Habit Challenge works completely offline
Fast, user friendly and beautiful user interface
No login nor account required
How it really works:
Give a name for your new habit
Select days of the week when you want to perform it
Choose how many times per day it should be performed
Optionally, add one or more reminders
After you perform it on a given day, mark it in the app
It is possible to keep track of your new skills. Form good habits and therefore break bad habits. Altogether you can improve yourself and your life. Though developing a new habit takes time.
For changing an old, bad habit, you require some willpower and time. Thereby this Habit Challenge app assists you to track your progress, shows how far you've already come and reminds you that you require sticking to the new habit today as well. In addition Habit Challenge permits you to plan and track any activity like exercises, quitting smoking, meditation, taking pills regularly and many others.
Verdict
So far I have to surely admit that I'm far satisfied from by this accolade of gem. For the developer's successful release on the Play Store and App Store, I trust that they did a splendid job with key features in Habit Challenge app.
DOWNLOAD FROM THE STORE :