As quoted beautifully by Leibniz the strategic games give you more intellectual pleasure. Additionally, they increase engagement and interaction as well. Abstract strategy games are few in the app store. It is always entertaining to play games with ups and downs rather than straightforward games. We learn a lot from the strategies and tricks and the same and be incorporated in our personal life too. So are you interested to play a game without burdensome rules then your search ends here? Yes, there is a brand new game for all the game lovers. The Game Royal tiles are an outstanding game that can be played on Apple devices.
Why Royal Tiles game is so special
The games that interest me most are abstract strategy games. The word "abstract" is used because such games usually are presented with no theme, or in which the theme is not important to the experience of playing. Abstract games are thus the "purest" of games
GET TO KNOW ABOUT THE ROYAL TILES GAME
You get the game going with all players having a player board.
There are "Factories" that make tiles each round.
These "Factories" make 4 tiles which you can use to plan your divider.
At the point when it is your divert you can get tiles from a factory however the catch is that you need to take every one of the tiles of that tone from the particular factory
For instance, you need blue tiles and the factory has 3 blue tiles, you need to take each of the 3. You then, at that point need to play the tiles on your board in succession. On the off chance that you have an excessive number of tiles for the column, the tiles remaining "break" and cause your score to be decreased
ROYAL TILES GAME FEATURES
Choose from different emotes to play with – angry, prophet, sad, servant & more
30 challenging game levels with increasing difficulties
Invite new players on the game
Make your collection of the royal tiles
Game Modes – Offline Mode or Multiplayer Mode
Multiplayer Game Mode with 2 players, 3 players or 4 players
In-game tutorial to learn how to play the royal tiles puzzle
Multiple languages supported – English, Chinese, Spanish, Arabic, Indonesian, Portuguese, French, Japanese, Russian, Deutsch
Buy coins from the online shop
Buy game skins from the game shop
Upgrade to get more emotes in the game
SCORING DETAILS
Each round ends once all the tiles from the factory have been taken.
Points are scored horizontally and vertically for rows of the same color tiles.
The "factories" are filled randomly each round so you can end up with a great score, minimal score, no score, or a negative score in a round depending on what comes up in the "factories" and what color you need.
You cannot score points on incomplete rows. When you take your color from a factory, any other color tiles get moved to the middle.
If no one takes from the center pile, often the last player ends up having to take tiles from that collection.
This can often mean a negative score if there are too many of the same color in the center.
Your score is worked out on the columns and rows you have filled with extra points for columns or rows of the same color.
Reward BONANZA –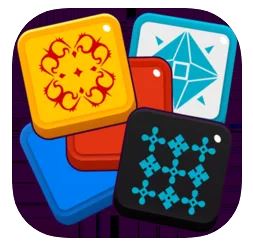 Indeed, this is one more extraordinary element of Royal Tiles. Simply allude to your companions and win invigorating components too solely for you.
• If you allude 1 companion you will get an Avatar
• If you allude to 3 companions you will get another tile skin set
• If you allude 5 companions you will be compensated for certain appealing and novel emojis
• If you allude, 10 companions, you will be compensated with you will open some obscure components of the game
Verdict
Finally, Royal Tiles is the best game I have come across so far. Special appreciation to the developers for this effective release. Do try and have a fun-filled amazing experience with your loved ones as well.
Download: