There are many varieties of options on how much water we should be drinking in a day. It usually varies from person to person. A person who is tall should consume water differently than the one who is thin in size. Also according to Ayurvedic science water consumption should be based on the type of 'Dosha' your body is at. But mostly drinking over 2 litres of water per day helps the body stay hydrated. This equals to about the equivalent of eight 8 ounce glasses in a day. However many people think that you should constantly sip on water throughout the day even if you are not thirsty. But it clearly depends on the individual.

Owing to a changed lifestyle most people tend to forget drinking water in a day and keep on going about their daily lives. The 'Water reminder – Hydration tracker' is a mobile app that works on to remind users to drink water regularly.
Developed by:
'Water reminder – Hydration tracker' is produced and offered to users by 'Q'SMART'.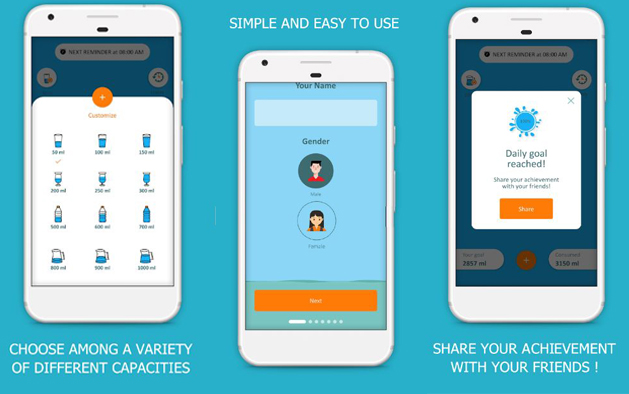 How the app works:
Download and install the 'Water reminder – Hydration tracker' app on your mobile phone or other similar devices. Now open the app and set your water drinking preferences in a day. The app suggests you the usual amount of water you should consume and also makes suggestions based on your gender and weight. The app also sends you messages on regular intervals to remind you to drink water. You can customize the level of water reminder you get through this app and lead a healthy lifestyle.
Features of the app:
'Water reminder – Hydration tracker' has many features. They are,
Easy and simple UI/UX
Customizable app
Lets you know the amount of water to drink
Water tracker
Compatible with: