TheLifeSigns' goal is to provide a simple service that allows singles to get help using devices they already own. You could compare TheLifeSigns service to purchasing insurance; you hope you never need it, but it is reassuring to know it is available if something goes wrong. The LifeSigns service is free since it is privately funded and does not currently have commercial goals.
How does it work?
LifeSigns is a reputed simple and free service that does not require installing any software or apps. Essentially create an account and enter your email address, as well as some friends, family, or colleagues, as buddies.
You will now receive a daily email with a LifeSign button. You will only be contacted if you press the button every day. If you cannot press the button, LifeSigns will automatically send requests to your friends to check in on you.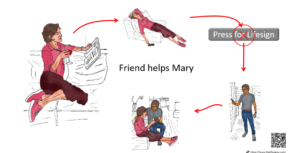 Do I need this?                               
A person can become incapacitated in a variety of ways. If a person cannot contact the outside world for assistance, their situation may deteriorate. Because the LifeSigns service is based on daily emails, you should not expect an immediate response. However, if everything is in order, you should receive a response either the next day or the same day at the very latest. This is sufficient in many cases to prevent serious escalation.
The LifeSigns service helps you and gives your family and friends peace of mind because they don't have to worry about your well-being as long as there are no follow-up requests.
How Do I Begin?
Choose the link to create a dashboard for yourself or someone else.
Fill in your friend's email addresses and press the button to confirm the email.
Send an alert note to your friends with instructions on what to do if you don't respond.
Change the Schedule if desired.
Every day from now on, you will receive an email with a life sign button.
Final Words
LifeSigns has a simple service that notifies friends and family when you require assistance. It's an excellent tool and provides a foundation of safety for both users and their loved ones. The principle is so well and adeptly designed in its simplicity that anyone who knows how to use email can understand how it works.