If you're an iPhone, iPad or iPod touch user and facing some issues with your device, then there is something for you to help you out! Whether you want to touch out of white screen, Recovery Mode, Apple Logo, repair the Black Screen issue of your iPhone, or want to fix other iOS issues, dr.fone will do everything for you!
It has now become very easy to fix all of these issues with the help of dr.fone which is none other than the Doctor of your Phone. You don't have to worry because dr.fone will not cause any data loss while fixing iOS device issues.
Before you go further for fixing iOS issues, you should note some points: After using this function, your iOS device will be updated to the latest iOS version. And if your iOS device has been jailbroken, it will be updated to non-jailbroken version. If you've unlocked your iOS device before, it will be re-locked.
Here are some steps that need to be followed for fixing the iOS issues: 
Step 1. Connect your iOS device
Launch dr.fone and choose Repair from the main window. After that, connect your iPhone, iPod touch or iPad with your computer with its cable. The dr.fone will detect your iOS device. If it detects, then click "Start" to begin the process. The app will display your device information such as its model, version, baseband version, etc. To continue click "Next".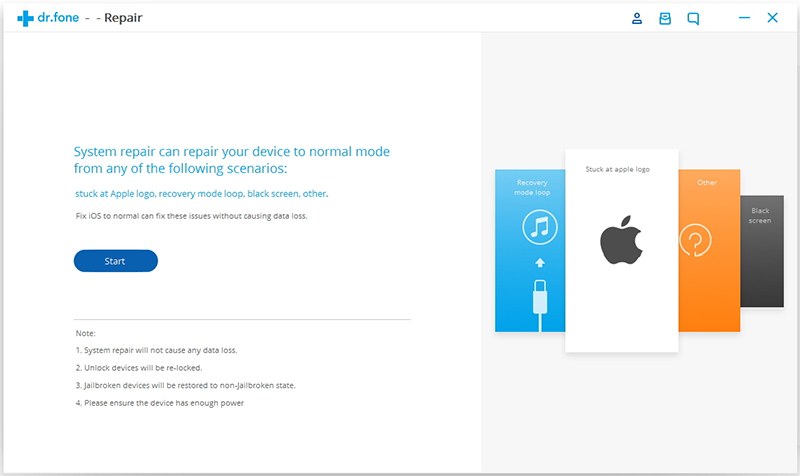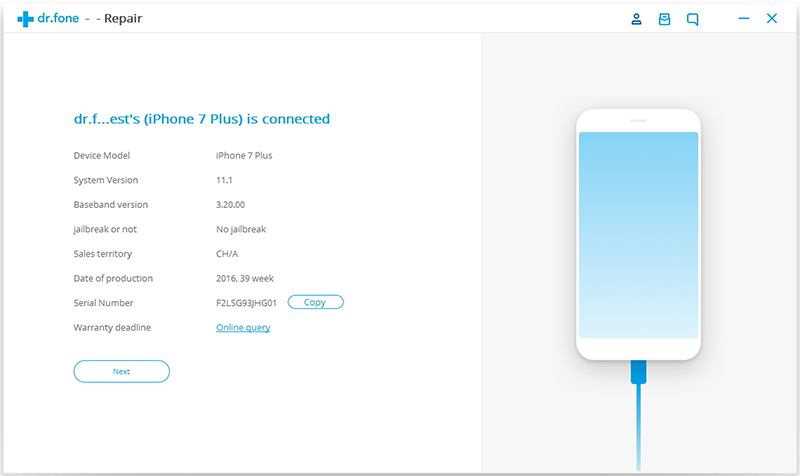 Step 2. Boot your iOS device in DFU mode
If your device is not functioning normally, then dr.phone iOS repair will remind you to boot the device in DFU mode by following some instructions.
Here are some steps to boot iPhone 7, iPhone 8 and iPhone X in DFU mode:-
Power off your phone.
Press and hold the volume down button and power button together for about 10 seconds.
Release the Power button and keep holding the Volume down button until the device is in DFU mode.
To boot other devices in DFU mode:-
Turn off the power of your phone.
Press and hold the power button and the Home button together for 10 seconds.
Release the power button and hold the Home button until the device is in DFU mode.
Step 3. Select and download the firmware
For a successful system recovery, you need to select the correct device phone model and firmware information. Then click on Download.

Since the firmware that you need to d9wnload is large, so it will take some time to complete the download. You make sure that your network is stable during the process. However, if the firmware is not downloaded successfully, you can also click on Copy to download the Firmware from the official website of Apple and click on Select to Restore the downloaded Firmware.
Step 4. Fix iOS to normal status 
When the download is complete, then click on "Fix Now" to start repairing your iOS device and to get your device to work normally again. After the repairing process is completed, your iPhone, iPad or iPod touch will restart into normal mode. But, if it doesn't boot normally, then you can click on "Try Again" to try the process again.
Hope, this article will help you a lot and fix your iOS device's issue!